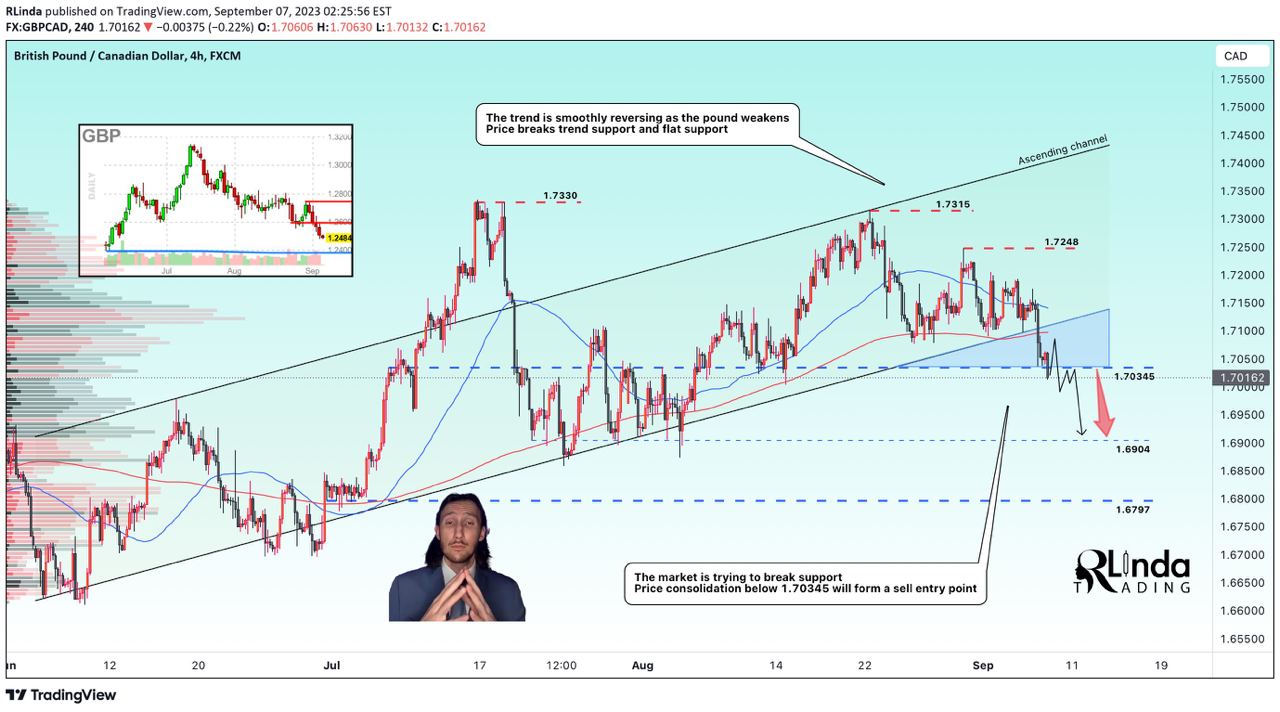 💡Ideas For GBPCAD 🇬🇧/🇨🇦
📈
GBPCAD → £ is weakening. Currency pair breaks support
➖ ➖ ➖ ➖ ➖
GBPCAD breaks trend support and breaks flat support on the background of weakening pound sterling. A retest of the strong support area is formed. The main currency of the UK is also declining to a 3-month low
The price breaks the support of the ascending price channel and forms an impulse. The market is forming an attempt to change the trend. In the near future the price may form a trend correction to the nearest resistance levels before further falling. The backdrop of the strengthening dollar is strongly affecting the entire forex market. DXY continues to update global highs, which provokes the weakening of world currencies.
The level of 1.70345 and 1.7060 plays an important role for us. A retest of these areas could send the price far down. The moving averages are changing direction.
Support levels: 1.70345 Resistance levels: 1.7087
I expect the fall to continue after a slight consolidation under the uptrend support.
➖ ➖ ➖ ➖ ➖
#GBPCAD 🇬🇧/🇨🇦
〰️〰️〰️
🟡
How do I join the VIP
🔅
⚡
Join the VIP channel
🟢
〰️〰️〰️
💬 My Contact -
Ask Linda
✅️
💻 Web -
RLinda.com
✅