Bitcoin forms the H&S pattern and for quite a long time the price is in the pattern realization stage, forming a flag, which, theoretically, can continue to fall.
After breaking through the support at 26700 and updating the low to 25878, the price starts to reverse and forms a retest of the previously broken level.
In this case, the market may test the future prospects of the H&S pattern. If the level of 26700 holds the price down, the realization of the pattern will continue and bitcoin may weaken to 25400.
But, as it often happens, the market can break the essence of the pattern and deactivate it, but in this case the bulls will have to take the 26700 area under their control.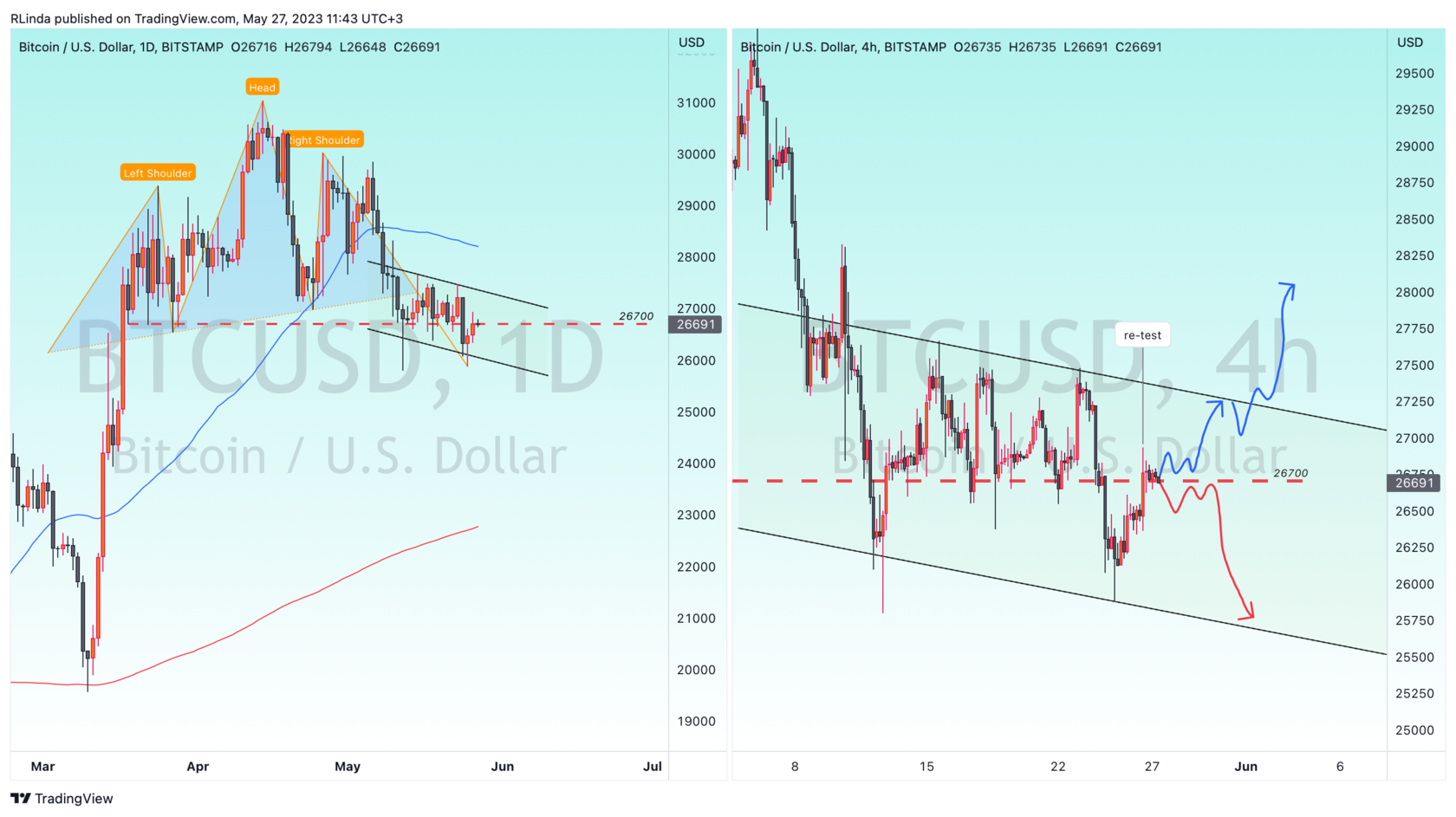 Daily MA-50 acts as a resistance and the price can test this line in the mid-term.
Daily MA-200 acts as a strong support.
Currently, the price is consolidating at 26700 and near the key Fibo area of 0.382 at 26655. Consolidation tells us that this level is felt by the market and is a key link for the future outlook.
On the weekly timeframe we see a correction after testing and false breakdown of the level 30261. The correction is directed towards the level of 25400, which plays a rather important role in the global outlook.
Fundamental component:
1) Friday news for the US market plays into the hands and the flagship strengthens following the SP500 index
2) Coinbase - BTC may move out of its trading range in case of a US default
3) US presidential candidate, governor of Florida: "There will be no CBDC in the U.S. if I become president. BTC is a threat to the current regime."
4) Glassnode: the number of long-term holdings in various categories is growing
Bitcoin is still looking good at the moment. This correction after a long rally is quite predictable and logical.
We continue to follow the flagship and the designated levels.
Regards R. Linda!