Gold closes the previous week at -1.65% at 1977.895. The price confirms the lower boundary of the sideways range and forms a rebound. What to expect from the price in the coming week?
Price makes a false break of the 1954.645 range support and the market on Friday buys back some of the fall, forming a rebound to the strong 1981.56 resistance.
Price made a false breakout of resistance, but closed the session very close to that level, which may indicate that the market is ready to strengthen if several key conditions from both the technical and fundamental sides are met.
The daily MA-50 acts as resistance and may be tested soon. MA-200 acts as a strong support.
The price behavior in the range is formed by the movement from the upper boundary to the lower boundary and back. The fundamentals in the coming week may be relatively bullish, so my priority will be to expect a breakout of 1981.56 resistance and price strength towards 2000, 2010, 2025 and possibly 2048.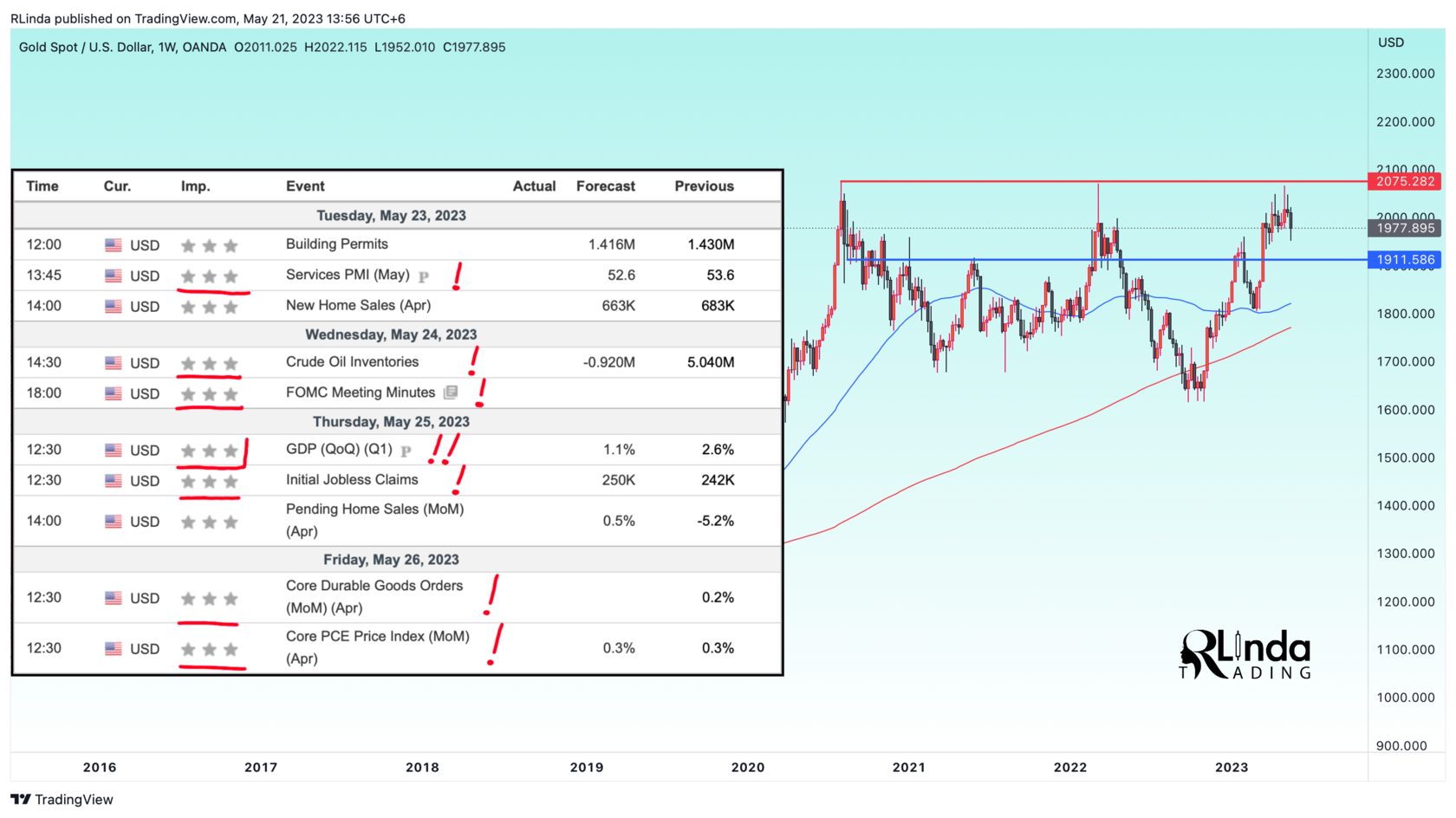 23.05
The Services PMI is published monthly by Markit Economics. The data is based on surveys of more than 400 executives in the private service sector - the expected numbers are unknown
24.05
Crude Oil Stocks Index. Energy Information Administration (EIA) measures the weekly change in the number of barrels of crude oil held in storage by U.S. companies - Analysts expect the reading to decline, which could reflect a deterioration in inflation
Federal Open Market Committee (FOMC) minutes are a detailed report of a monetary policy committee meeting held about three weeks earlier
25.05
Gross Domestic Product (GDP) measures the annual change in the inflation-adjusted value of all goods and services produced in the economy - Analysts expect GDP to be flat or worse, which could have a negative impact on the dollar.
First-time jobless claims measure the number of people who applied for unemployment benefits for the first time in the last week - Analysts expect jobless claims to rise, which could negatively affect the dollar
26.05
The Core Durable Goods Orders Index measures the change in the total value of new orders for manufactured durable goods, excluding transportation goods - expected numbers are unknown
The Core Personal Consumption Expenditures Price Index (PCE) measures changes in the prices of goods and services purchased by consumers for consumption, excluding food and energy - Analysts expect the index to be flat or worse, which could negatively affect the dollar.
Overall, fundamental data this week is expected to be either neutral or negative for the dollar index. If the expected data proves to be true or is either in that range, then the dollar will start to sell off and gold will then break the 1981 level and start its strengthening.
Regards R. Linda!