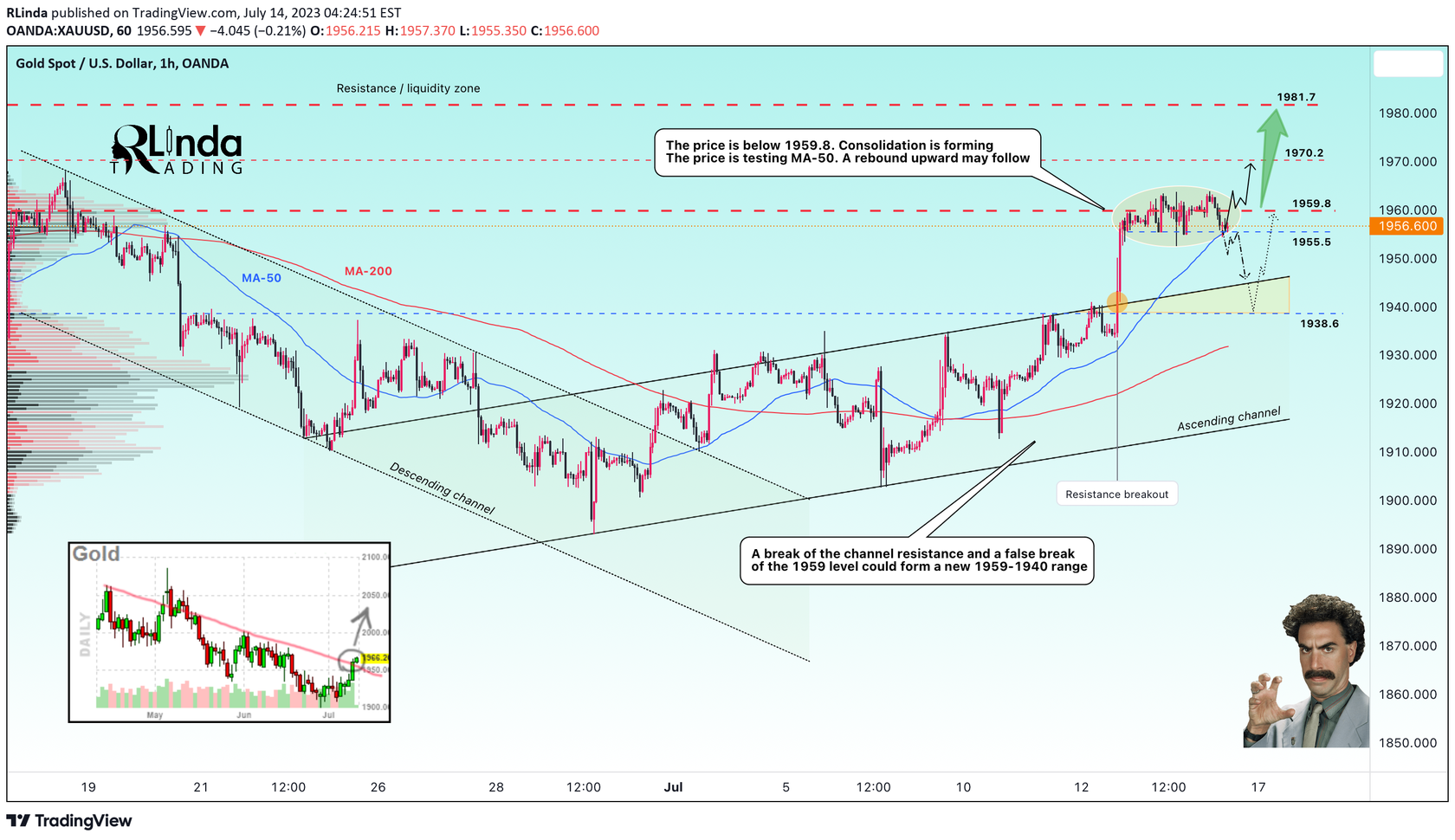 👑 Ideas For XAUUSD / GOLD
📈
GOLD → Waiting for correction after false breakout
➖ ➖ ➖ ➖ ➖
GOLD is breaking uptrend resistance, which confirms a definitive trend change amid a weakening dollar. But what happens at the level of 1960?
The mentioned level forms a prolonged consolidation. The market is trying to make up its mind after the rally, but it is necessary for the market to form a correction or consolidation in a more neutral zone, for example between 1960 and 1940.
If the price forms a correction after the rally and a false break of resistance, it will form a flat with approximate boundaries: 1960 - 1940.
The correction may start when the local support 1955.5 is broken, in this case the price will head to the upper boundary of the channel or to the level of 1940.
A correction after a rally is a predictable reaction in the gold market. In the next few hours the breakout of 1960 is not worth waiting for, the price needs to replenish liquidity.
A retest of MA50 is forming, if the support is broken, the price will give an impulse downward.
Support levels: MA-50, 1955, 5 Resistance levels: 1960
I expect correction before further growth. The price is not ready to break the resistance of 1960, before that it is necessary to test the moving average
➖ ➖ ➖ ➖ ➖
#XAUUSD 👑
〰️〰️〰️
🟡
How do I join the VIP
🔅
⚡
Join the VIP channel
🟢
〰️〰️〰️
💬 My Contact -
Ask Linda
✅️
💻 Web -
RLinda.com
✅