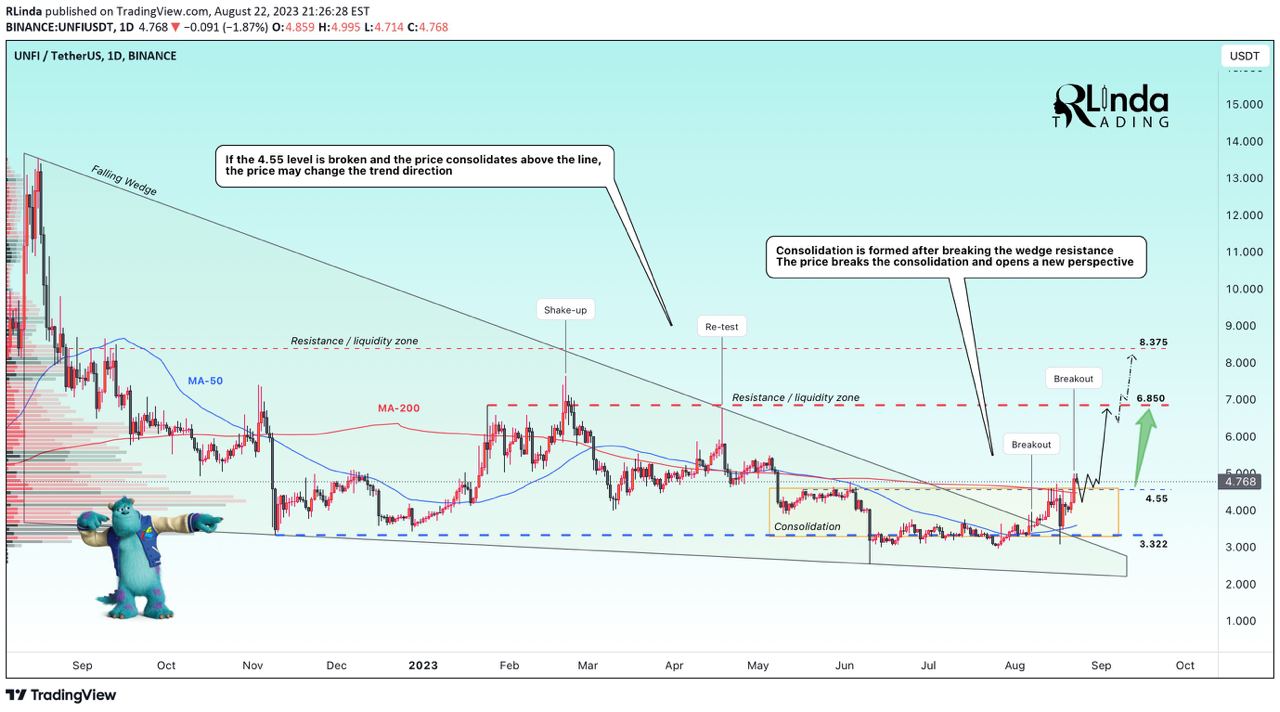 💡 Ideas For UNFIUSDT 💰
📈
UNFIUSDT → Wedge breakout and flat breakout
➖ ➖ ➖ ➖ ➖
UNFI is forming bullish signals to open a new potential while bitcoin is in a strong bearish correction.
On the chart we see the formation of a downtrend. The global consolidation and the bottom retest speak for themselves about the market situation.
A few days ago, the price forms a retest of the resistance of the specified figure and breaks it, forming an impulse, but with no result at the retest of 4.55. Consolidation and subsequent retest of the specified boundary is formed. What happened? The price broke the resistance of the specified range. Our task is to wait for the price to consolidate above 4.55 to form a bullish position. If the buyers hold the specified area, the price may reach the level of 6.850 and even 8.375 in the medium term.
Support levels: 3.322, 4.55 Resistance levels: 5.45, 6.85
I expect consolidation above 4.55 with further growth to the above targets
➖ ➖ ➖ ➖ ➖
#UNFIUSDT 💰
〰️〰️〰️
🟡
How do I join the VIP
🔅
⚡
Join the VIP channel
🟢
🏆Crypto Broker -
LINK
🔶
〰️〰️〰️
💬 My Contact -
Ask Linda
✅️
💻 Web -
RLinda.com
✅