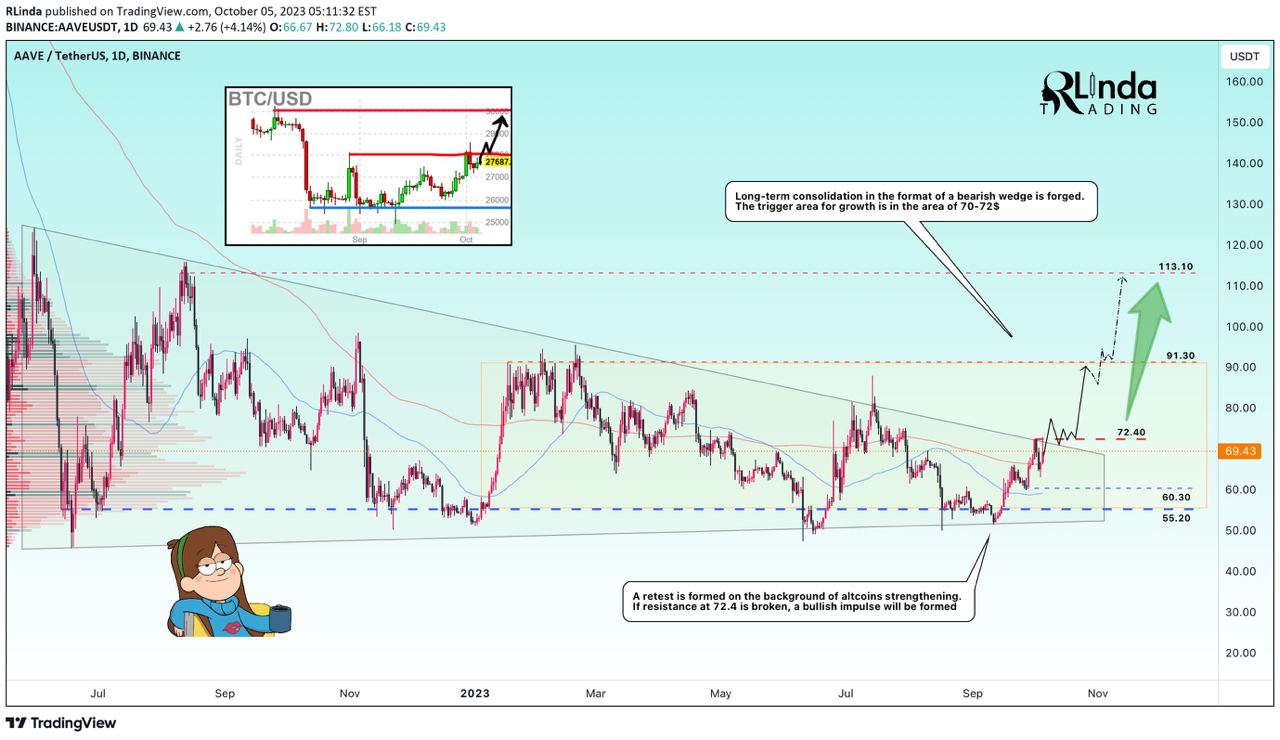 💡 Ideas For AAVEUSDT 💰
📈
AAVEUSDT → The stage is set for a breakthrough of resistance
➖ ➖ ➖ ➖ ➖
AAVE is forming a retest of the wedge resistance amid the cryptocurrency market strengthening. When breaking through the resistance of 72.4, the market may move to realize the accumulated potential
In terms of technical analysis, #
AAVEUSDT
forms a neutral correlation following #
BTCUSD
. The market reacts to all the movements of the flagship, therefore, if the one starts to strengthen, AAVE will grow and vice versa. On the chart, there is a large enough potential for a market reversal. Consolidation is formed within the flat and between the garnets of the wedge. Global growth of the market is separated by resistance 72.4 and 91.3, when the price goes beyond it the active growth will start. This is acceptable in medium-term and long-term frames. Our task at the moment is to follow the specified area and wait for the breakout of resistance. Moving averages indicate the formation of accumulation.
Support levels: 64.75, 60.3, 55.2 Resistance levels: 72.4
In the long term I expect a retest of resistance with further growth towards 91.3.
➖ ➖ ➖ ➖ ➖
#AAVEUSDT 💰
〰️〰️〰️
🟡
How do I join the VIP
🔅
⚡
Join the VIP channel
🟢
🏆Crypto Broker -
LINK
🔶
〰️〰️〰️
💬 My Contact -
Ask Linda
✅️
💻 Web -
RLinda.com
✅