💡 Ideas For ETHUSD 🔷
📈
ETH → Updating highs after correction ↑
➖ ➖ ➖ ➖ ➖
#
ETH
is breaking through the resistance area and testing the 7-month high of 2130. Fundamental leverage has strengthened the price of the coin quite strongly, but in all likelihood, the growth will not end there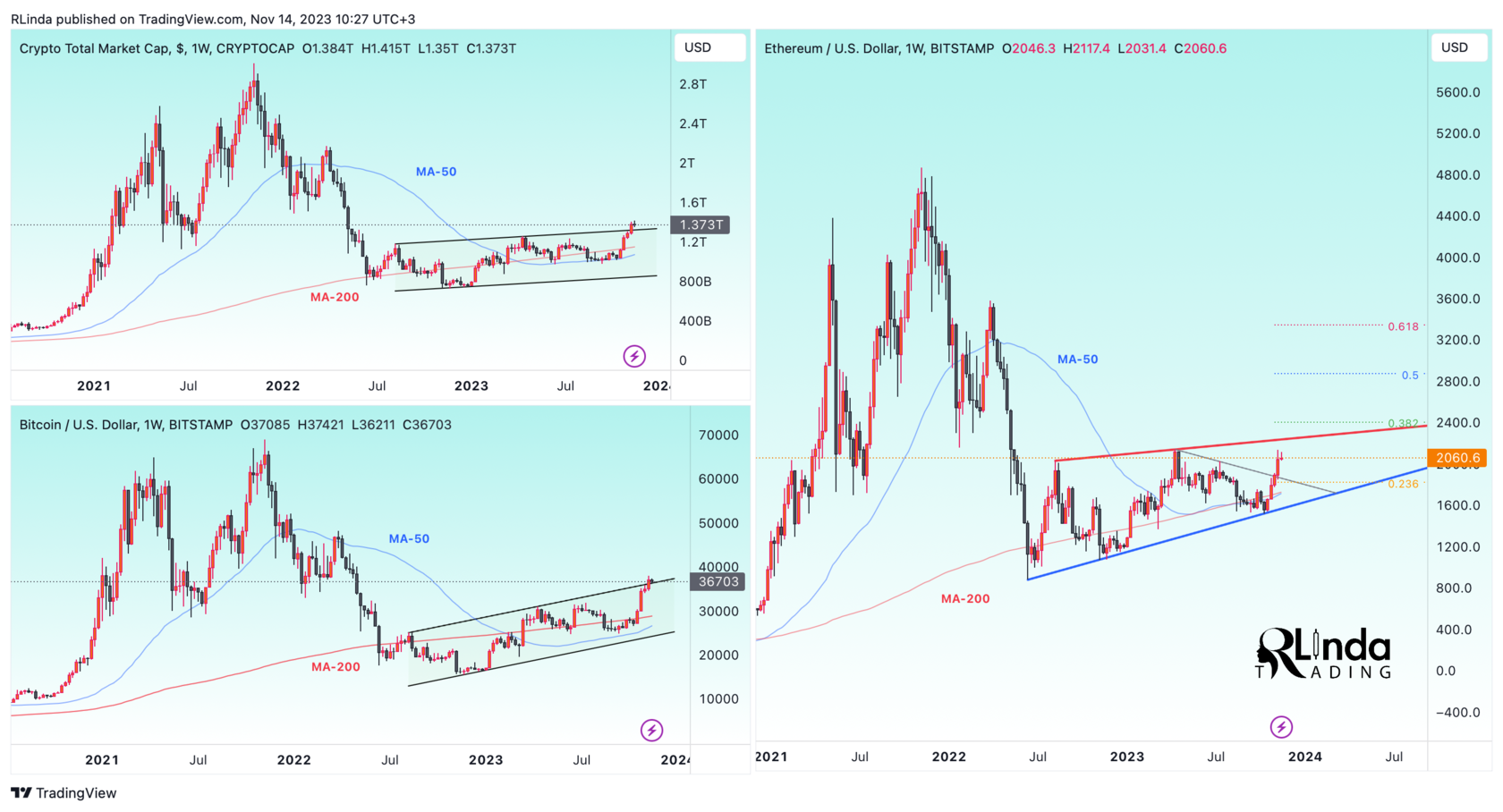 On the senior timeframe (W1) we see an active bullish phase of the market. Market capitalization is increasing, #BTCUSD is trying to get out of the current corridor, while ETH is directed towards 0.382 fibo to retest the maximum. The price exit beyond the red resistance will confirm the beginning of active growth.
In the medium term, ETH could sufficiently grow to $3000. It seems that the ETH ecosystem revenues have passed the bottom point and the token has become deflationary.
As for fundamental factors, the market is positively influenced by the information about BlackRock's imminent filing for a spot ETH-ETF.
On the local timeframe we see correction, most likely the market after the rally is going to test the support area, which is the zone 2005 (0.236) - 1920 (0.382). The growth will continue and another retest of resistance 2131 may lead to a breakout.
Support levels 2005, 1920 Resistance levels: 2131
After the end of testing of the support area, on the background of increased interest the capitalization of the asset will continue its growth behind the price, therefore, in the mid (long) term I expect a breakout of 2131 and growth to 2300-3000
➖ ➖ ➖ ➖ ➖
#ETHUSD 🔷
〰️〰️〰️
🟡
How do I join the VIP
🔅
⚡
Join the VIP channel
🟢
🏆Crypto Broker -
LINK
🔶
〰️〰️〰️
💬 My Contact -
Ask Linda
✅️
💻 Web -
RLinda.com
✅