In the coming week there will be important news for the U.S. market, and gold may react accordingly. We should pay attention to the following news:
Nov 21: FOMC Meeting Minutes
Nov 22.Nov: FOMC Meeting Minutes, CDGO, Initial Jobless Claims!!!, FOMC
Nov 24: S&P Global Services PMI
The market is reacting to inflation related data earlier than the Fed would like, as the Fed's policy pause is still ongoing and the dollar index is already starting to decline. There is a possibility that the Fed may heat up the market again and strengthen the price, but not on an actual rate hike. We wait for the news.
From the technical point of view, the #DXY breaks the strong support at 103.987 and forms the closing of Friday's daily candle at the minimum point of the daily APR, which indicates the continuation of the decline, and this will affect the price of gold.

Gold in its turn continues to test the important level of 1984. This area has been restraining the market for quite a long time and if the price fixes above the level, the bulls will find a strong support.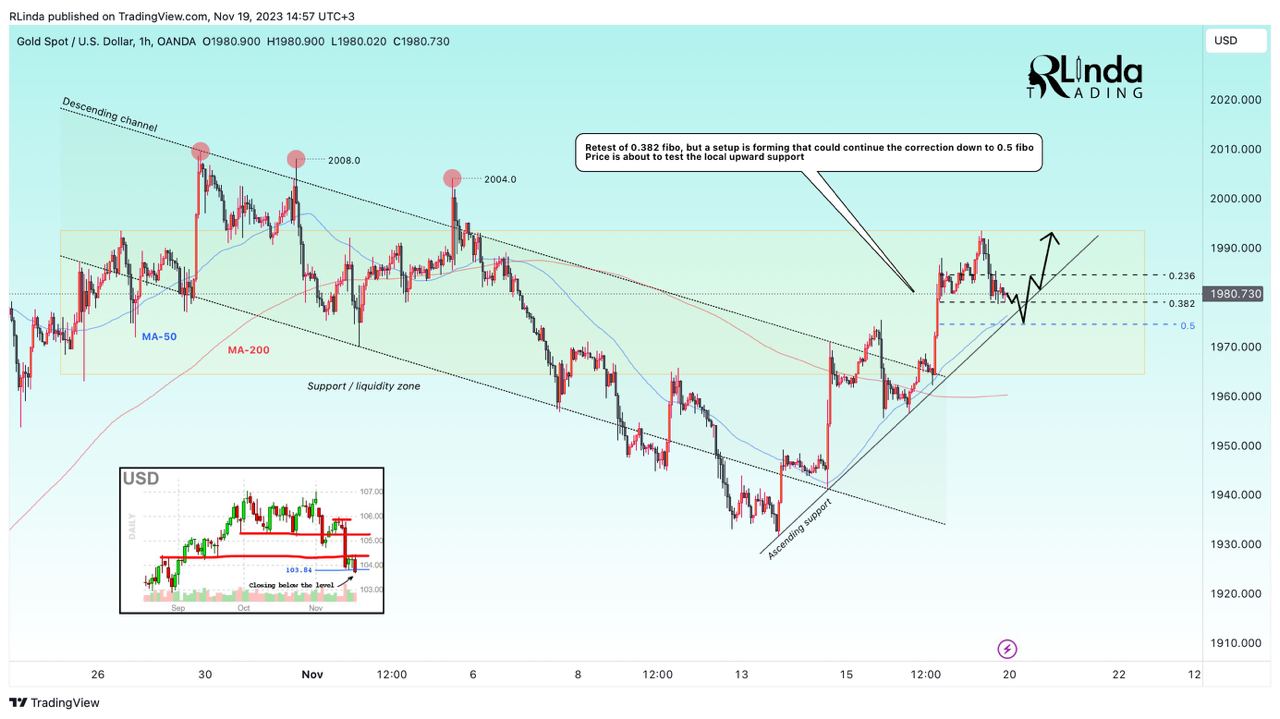 On the local timeframe we still see an uptrend, but the price is forming a local correction on Friday, and the last few hours are forming a pattern that could send the price to 0.382 - 0.5 fibo (but if the market is more aggressive, the price could test the far support of the range) before rising further.
We have a high probability of continued growth in the medium term, but the market may open the session with a small correction before a further retest of 1984 and subsequent breakout of this area, which could send the price towards our targets.
➖ ➖ ➖ ➖ ➖
#XAUUSD 👑
〰️〰️〰️
🟡
How do I join the VIP
🔅
⚡
Join the VIP channel
🟢
🗣
Top
FOREX
Broker
🌟
〰️〰️〰️
💬 My Contact -
Ask Linda
✅️
💻 Web -
RLinda.com
✅