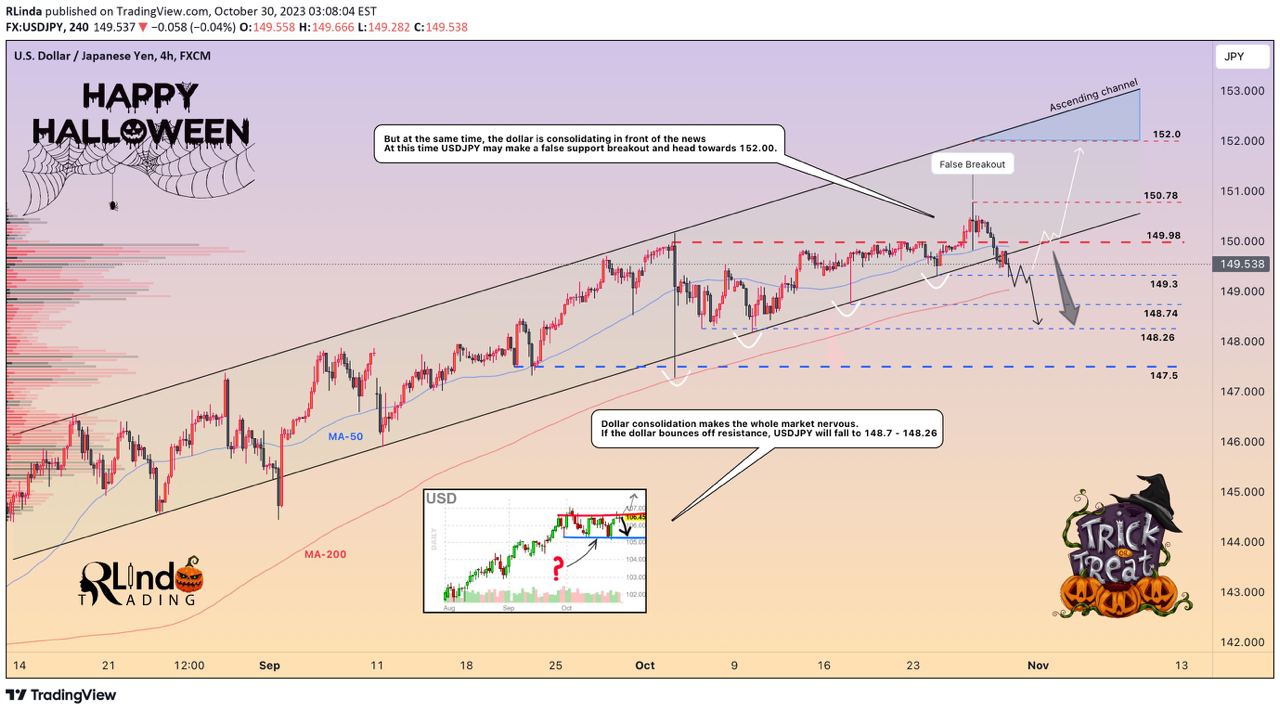 💡 Ideas For USDJPY 🇺🇸/🇯🇵
📈
USDJPY → Support level breakout. Will it be false?
➖ ➖ ➖ ➖ ➖
#
USDJPY
has been in a narrow consolidation phase for a long time. A break of resistance is inconclusive as the market is unstable due to #DXY halt ahead of news and intervention in Japan
There are quite a lot of traps formed on the chart (white ticks), I explained in the gold idea how these traps are formed. Due to low liquidity because of unclear situation and further actions, players tried to gain positions, but to no avail. Consolidation continues. At the moment the price is breaking the support of the ascending channel, which may be the beginning of the correction.
The dollar is testing the resistance and may bounce down, which will provoke a decline in USDJPY and within this movement the price may follow the scenario of the black arrow and go down to 149.3, 148.74 and 148.26. But if the news comes out this week and provokes a breakout of the resistance of the dollar, the currency pair will form a false breakout of one of these support lines and will head towards the resistance of 152.0. At the moment we are watching the levels and the price reaction to these levels + news.
Resistance levels: 149.98, lower channel boundary Support levels: 149.3, 148.74, 148.26
I assume a small correction, but in the medium term the price may reach 152.0
➖ ➖ ➖ ➖ ➖
#USDJPY 🇺🇸/🇯🇵
〰️〰️〰️
🟡
How do I join the VIP
🔅
⚡
Join the VIP channel
🟢
🗣
Top
FOREX
Broker
🌟
〰️〰️〰️
💬 My Contact -
Ask Linda
✅️
💻 Web -
RLinda.com
✅