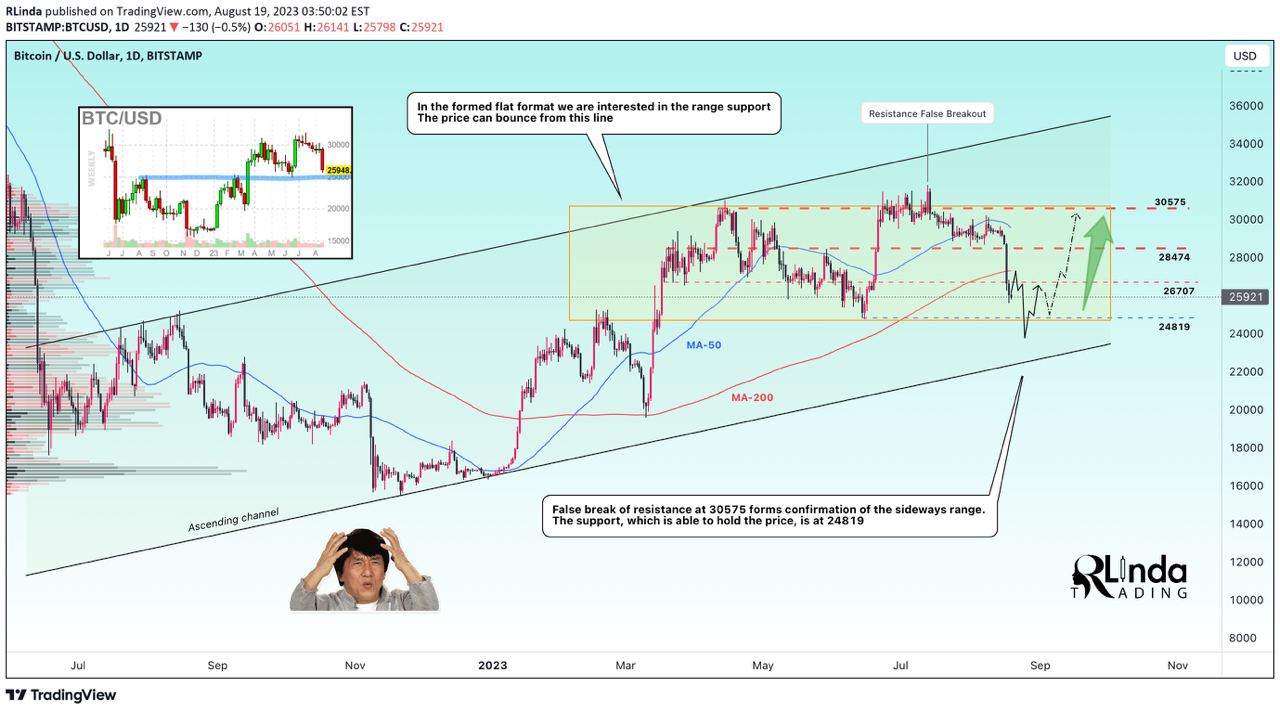 💡 Ideas For BTCUSD🪙
📈
BTCUSD → An impulse that scares the buyer. What's next?
➖ ➖ ➖ ➖ ➖
BTC is breaking the 26700 support and MA-200 forming a strong bearish momentum, but at the same time the price is not breaking the bullish channel. In terms of global outlook, the price is still in an uptrend
Pay attention to the weekly chart on the left. Price is forming momentum and a strong distributive move towards the strong support at 25000. The level is important for us, has a double confirmation, the first confirmation was from the sellers side, the second from the buyer side. I think that another retest, and especially after the distributive movement, may give us either a reversal or at least a strong bullish reaction.
Traders are waiting for fundamental confirmation for cryptocurrency action. At the moment it is the approval from the SEC of BTC-ETF futures applications. This will give a new breath to the market.
Most likely, this movement within the uptrend may be triggered for the sake of buying the asset at a lower price before further strong growth
The moving averages are acting as resistance. The market is in a correction phase.
Support levels: 25000, 24819 Resistance levels: 26707, 28474, 30575
The market is in the phase of a bullish trend, a correction is forming within the upward channel on the garfish, which may end near support
➖ ➖ ➖ ➖ ➖
#BTCUSD 🪙
〰️〰️〰️
🟡
How do I join the VIP
🔅
⚡
Join the VIP channel
🟢
🏆Crypto Broker -
LINK
🔶
〰️〰️〰️
💬 My Contact -
Ask Linda
✅️
💻 Web -
RLinda.com
✅