👑 Ideas For XAUUSD / GOLD
📈
GOLD → Consolidation below support ahead of NFP. Trap?
➖ ➖ ➖ ➖ ➖
GOLD has been consolidating below the previously broken descending channel support for two days. From the basic fundamentals, this formation suggests a strengthening sentiment for further declines, but there are always nuances to it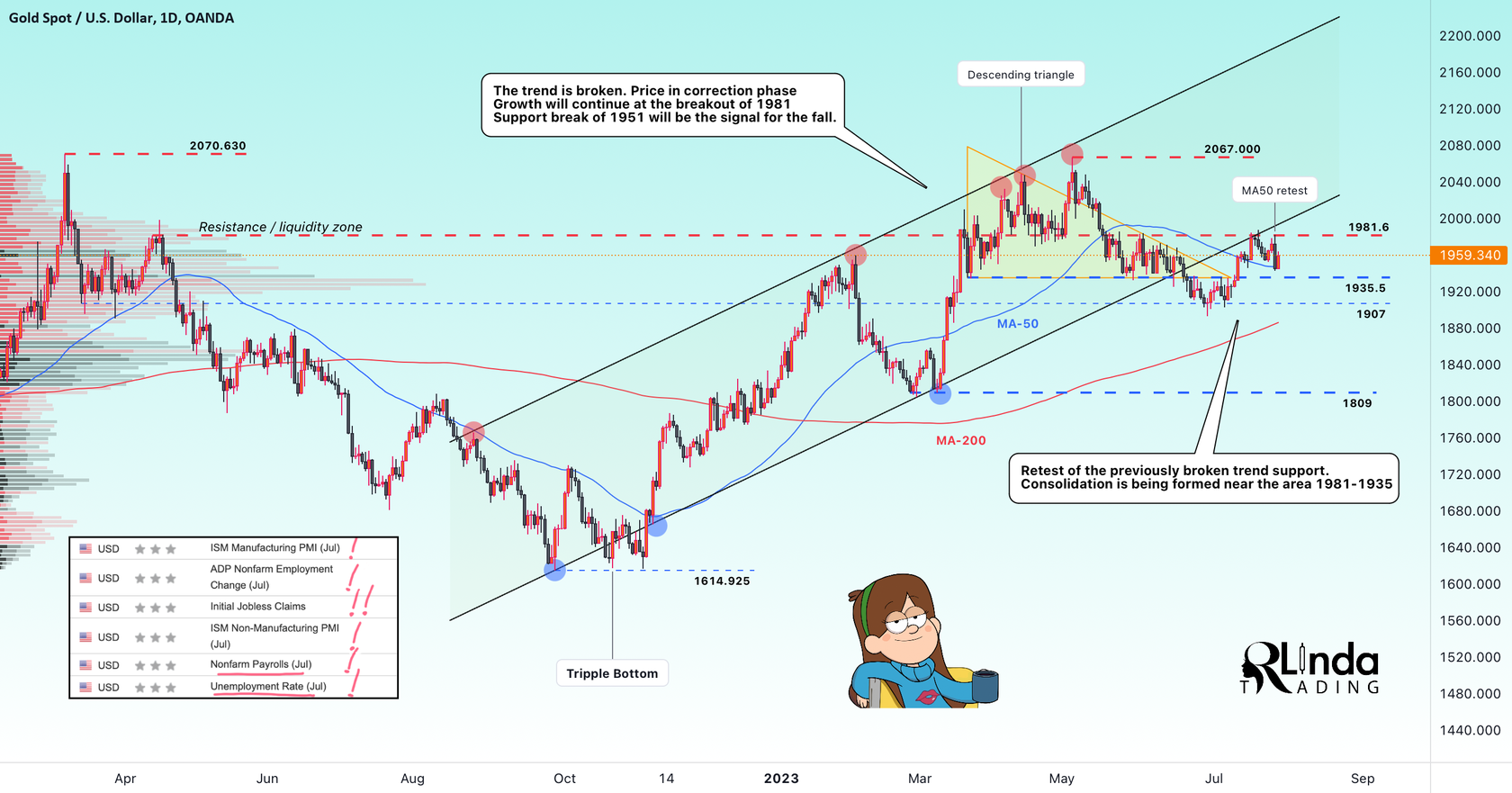 Analysts were expecting bearish news for the dollar, which was previously published, but the index is showing a bullish bias, suggesting an improving economy.

Fitch downgraded the long-term rating of the US to AA+ from AAA

This is not good news for the dollar, but still:

The U.S. was downgraded to AA in 2011, which caused the market to fall hard, but earnings and economic conditions were different at the time.

This downgrade by Fitch is not fundamental as the economy is growing and profits are rising to service this debt.
In terms of technical analysis, after a rally to the 1980 area, a correction in the format of a flag-like descending channel is forming, but at some point things don't go according to plan and price breaks the channel support, forming a consolidation and forming liquidity before further declines.

Ahead of NonFarm Payrolls and Unemployment Rate publication, analysts are expecting bearish data, but based on earlier press releases, the numbers could be the opposite, which could provide new bullish potential for the dollar, and gold could fall to 1900.
Support levels: 1933, 1930, 1927, 1912 Resistance levels: 1943, 1954
In priority I expect the price to fall to the lower support levels, but the price can break the situation if the expected fundamental data is confirmed.
➖ ➖ ➖ ➖ ➖
#XAUUSD 👑
〰️〰️〰️
🟡
How do I join the VIP
🔅
⚡
Join the VIP channel
🟢
〰️〰️〰️
💬 My Contact -
Ask Linda
✅️
💻 Web -
RLinda.com
✅